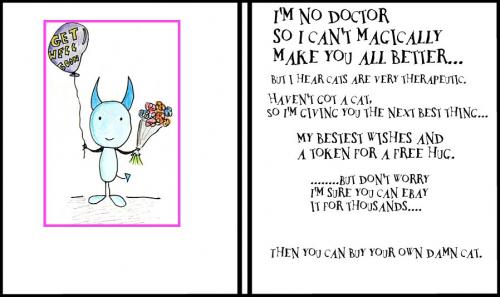 6966
Get well..eventually?

1
Applause

di
Radio-active Girl
il 08 July 2008
Ok since people started saying I should put yeep on cards and stuff, I designed a few for those everyday events most cards cater for; with my usual sarcastic twist.
This is a very basic version of the get well card...
something you would buy? : P
Traduzioni
(1)
aggiungi
Spanish di mariposa
'¿Que te recuperes…finalmente?

No soy médico
Por eso no te puedo curar mágicamente…
Pero se dice que gatos son muy térapeuticos.
No tengo ningún gato.
Por eso te doy …
Mis mejores deseos y un vale por un abrazo gratuito.
…pero no te preocupes
estoy seguro que puedes ponerlo en ebay y ganar miles…
Entonces,puedes comprar tu propio gato.'

festive fun

Imagine.

Valentines