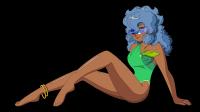 BDTXIII
"Going 'Retro'!!"
Subang Jaya, Malaysia
membro da July 27, 2010
www.bdtxiii.deviantart.co...
464 505
visualizzazioni
12
commenti
3
preferiti
Informazioni professionali
Nome
Liam Wei Luen
Data di nascita
1987-11-06
Titolo di studio
The One Academy
Tecnica
Traditional and digital.
Informazioni personali


I'm currently an animator and layout artist in training in Inspidea.