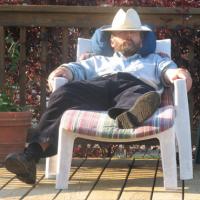 DavidP
LANSDOWNE (though hardly a city), Canada
membro da July 08, 2008
www.davidparkins.com
360 178
visualizzazioni
149
commenti
112
preferiti
Informazioni professionali
Nome
David Parkins
Data di nascita
1955-02-11
Titolo di studio
King's School, Grantham - then Lincoln College of Art. Then, after I left art college, I learnt to do the job.
Tecnica
Many and varied
Strumenti
I still like the old pen and ink, dip and scratch method - but then there's watercolour and acrylics and alkyds and pencils and sooo many other media to use. Oh, and Photoshop - mustn't forget that.
Influenze
Searle, Steadman, Scarfe, Peake and everybody else I've noticed in passing.
Vignetta preferita
Calamity James (The Beano)
Informazioni personali
I was born and brought up in the UK.I made the move to Canada with my wife and daughter in 2006,at the ripe old age of 50.I still do most of my work for the UK, though. All hail, the mighty Internet! In my time I have worked for The Guardian, The Beano and done a fair few children's books.