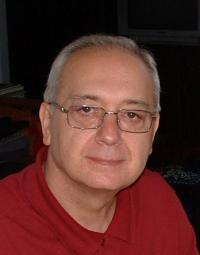 Gero
Osijek,
membro da August 30, 2008
2 130 820
visualizzazioni
939
commenti
109
preferiti
Informazioni professionali
Nome
Miroslav Gerencer
Data di nascita
1948-11-13
Informazioni personali
Born in Osijek, Croatia. He is a freelance artist who has been engaged in cartoon art for more than forty years. Gero is member of the Croatian Association of Cartoonists. He is a regular contributor to Croatian puzzle-writing magazines Feniks, Skandi Feniks, and sometimes he publishes his work in the Swiss humor magazine Nebelspalter. Besides working for periodicals, Gero illustrates books, calendars, and posters. His book of portrait caricatures titled "Face next to face" was published in 1995. Gero's numerous international prizes include a First prize "DIFECA" Seoul, Korea 1997. Silver prize Taejon, Korea 1995. Third prize Skopje, Macedonia 1996. Third prize Sv. Ivan Zelina, Croatia 1998. Excellent Prize, Tokyo Japan 1998. Second prize Haifa, Israel 2000. Second prize Slavonski Brod, Croatia 2001. Achievement award Daejeon, Korea 2001. Honor prize Free Web, China 2002. Bronze prize Daejeon, Korea 2002. Fifth prize Buenos Aires, Argentina 2002. Bronze prize, Free Web, China 2004. Silver prize, Free Web, China 2005. Third prize Novi Sad, Serbia 2006. First prize Calarasi, Romania 2006.