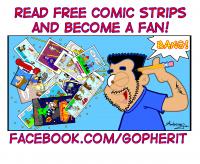 Gopher-It Comics
"Have Fun!"
Hemet, United States of America
membro da March 10, 2011
facebook.com/Gopherit
373 285
visualizzazioni
39
commenti
0
preferiti
Informazioni professionali
Nome
Ambrose Quintanilla IV
Data di nascita
1968-12-25
Titolo di studio
Completely self taught by studying other great cartoonists and the book, The Secrets of Professional Cartooning! (My Bible) by Ken Muse.
Tecnica
Pencil drawings traced with inked on a lightboard.
Strumenti
Staedtler Mechanical pencil (1.3MM) & Pigma Micron pens.
Influenze
Ken Muse, Don Martin, Sergio Aragones, Dik Browne, Jim Davis, Gary Larson Stan Sakai and Berkeley Breathed.
Vignetta preferita
Anything by Don Martin!
Informazioni personali


I'm a professional cartoonist based in Southern California. I draw several different comic strips that are posted once a week on Facebook.com/Gopherit in a random rotation.