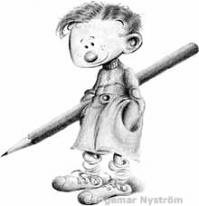 Ingemar
"Beauty is the only thing that lasts"
Södertälje (Sodertalje), Sweden
membro da February 08, 2008
www.ingemarnystrom.nu
90 388
visualizzazioni
7
commenti
0
preferiti
Informazioni professionali
Nome
Ingemar Nyström (Nystrom)
Data di nascita
1956-04-15
Titolo di studio
Mostly self-taught, autodidactic
Tecnica
Pencil, ink, watercolor and oil
Strumenti
Same as above on paper, and computers
Influenze
Life
Informazioni personali


Illustrator and artist. Illustration: Paints nearly everything from cartoons to realism. Artist: Mostly birds, nature and animals.