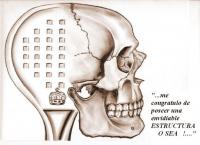 QUIM
SALT-, Spain
membro da March 03, 2008
www.artistasdelatierra.co...
761 522
visualizzazioni
77
commenti
25
preferiti
Informazioni professionali
Nome
QUIMERICAS by Quim Paneque
Data di nascita
1972-04-08
Informazioni personali


the cryptoGRAPHIC HUMOR is born with "QUIMÉRICAS" by QUIM PANEQUE FIGUEROLA,beyond the graphic humor,visual poetry or surreal graphic design...only Quiméricas!!!,a diverse amalgam of bizarre and graphic hilarities,unified under the so-called "color Quiméricas",spectrum of gray color,sepia,bronze and ochre,that the author identifies with ...the color of his aura !!!