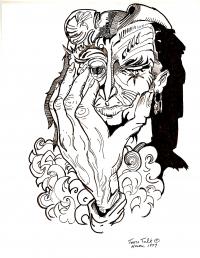 Toonstalk
"TOONSTALK WORLD"
Winnipeg, Canada
membro da November 17, 2009
www.toonstalk.blogspot.co...
1 550 059
visualizzazioni
134
commenti
14
preferiti
Informazioni professionali
Nome
David Howell
Data di nascita
1957-01-10
Titolo di studio
Community art courses and self taught
Tecnica
black and white, some color
Strumenti
pen and ink, pencil crayon,acrylic, collage
Influenze
marvel,dc comics and daily strips
Vignetta preferita
Too many to choose
Informazioni personali
Pen and ink doodler with a love for cartooning, poster art, comic art, etc. Hope to use some color in newer work. Enough about me - see www.toonstalk.blogspot.com/ see http://toonstalk.wixsite.com/willy see https:www.instagram.com/toonstalk/ see https:www.facebook.com/Toonstalk-World-...
Portfolios

GEMSTONE LADIES (3)
Contatti di Toonstalk
(34)