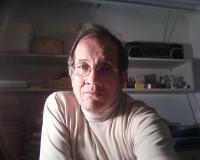 Zvonko
Ljubljana, Slovenia
membro da February 10, 2011
6 177
visualizzazioni
3
commenti
0
preferiti
Galleria di Zvonko
(3)

Facebook dema...

at Psychoana...

facebook
Informazioni professionali
Nome
Zvonko Trbuha
Data di nascita
1945-04-23
Titolo di studio
The Faculty of Architecture (Zagreb, Croatia). Today -pensioner.
Tecnica
All techniques! I prefer the "old techniques"- pencil, brush, marker, ink, aquarell and so on
Strumenti
for creation and computer for realization
Influenze
Ronald Searle, Otto Reisinger, Saul Steinberg etc
Vignetta preferita
"Calvin and Hobbes", "Rose is Rose", "Herman","The Far Side "
Informazioni personali


From primary school onwards I commented on the cartoon all the events in my area.It was, for me, the best way for rescue my living problems!