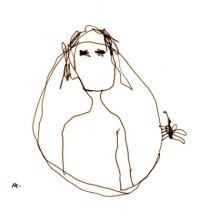 flyingfly
"Flying Fly - it lives in my heart and sometimes flies out due to the spaca shortage."
Berlin, Germany
membro da May 19, 2008
www.flyingfly.de
137 876
visualizzazioni
14
commenti
13
preferiti
Informazioni professionali
Nome
Lina Khesina
Data di nascita
1983-03-16
Titolo di studio
University of Applied Sciences Potsdam, Germany. University of Applied Sciences Graz, Austria
Tecnica
Illustration, Drawing, Color, b/w
Informazioni personali
Lina Khesina was born (1983) and grew up in Russia. Lives, studies an works in Germany since 1999.