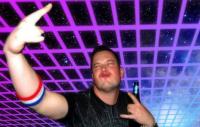 nolanium
"Let it ride. Let it slide."
Seattle, WA, United States of America
membro da March 21, 2010
nolanium.blogspot.com
285 424
visualizzazioni
53
commenti
9
preferiti
Informazioni professionali
Nome
Nolan Harris
Data di nascita
1981-01-05
Titolo di studio
BFA Savannah College of Art and Design
Informazioni personali


I'm a small business owner/ illustrator in Seattle, WA.