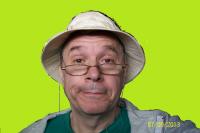 ouzounian
"hurray for not trying hard enough!"
Yerevan, Armenia
membro da May 19, 2011
2 248 419
visualizzazioni
383
commenti
34
preferiti
Informazioni professionali
Nome
jean ouzounian
Data di nascita
1956-04-11
Titolo di studio
high school
Tecnica
minimalism as much as possible
Strumenti
pen and paper,bamboo program
Influenze
soviet cartoonists
Vignetta preferita
ben kliban's guy trying to get a bunch of ducks out of his appartment by hinting at the beautiful weather outside.
Informazioni personali
nothing of particular interest.