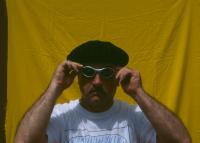 skätsch-up
"look and see and enjoy"
stuttgart, Germany
membro da July 09, 2008
165 813
visualizzazioni
9
commenti
1
preferiti
Informazioni professionali
Nome
Günther Z.
Data di nascita
1956-05-17
Titolo di studio
self
Tecnica
skätsch
Strumenti
pencil, sharpener,rare eraser,colorpencils, stabilo point 88 - fine 0,4, watercolor
Influenze
nature, enviroment,myself,
Informazioni personali


ich zeichne gerne was lustiges, ganz neutral, zum schmunzeln, grinsen, lachen,(langsam auch mal was aktuelles )freuen.....durch das linieren, denke ich, kommen die farbstiftfarben besser raus, viel spass und freude. G.