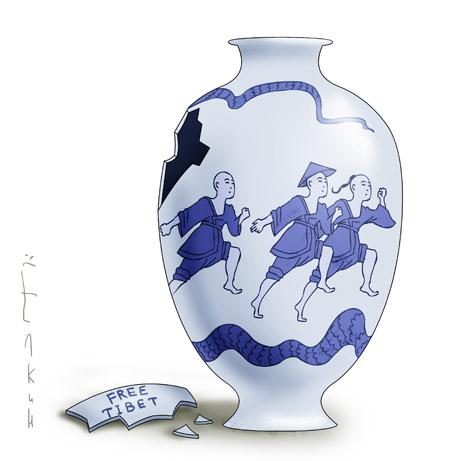 6275
...

di
Elkin
il 21 April 2008
Vignetta selezionata
Flawless

A graceful porcelain vase decorated with subtle painting - a harmonious allegory of the manifold Chinese culture by a Russian cartoonist. This perfection shatters in a second in the picture by Sergey Elkin from Moscow. Through the gaping jet black hole in the vase, the joyous bouncing of the three Chinese turns into a panic stricken escape. Behind the beautiful shell hides a vacuum, no substance, the sheer nothingness. "Free Tibet" is written on the broken out shard - an alleged flaw in the superficial symbol.

(toonpool.com 05/08)

Putin - 2

Putin - Bra...

G8-2