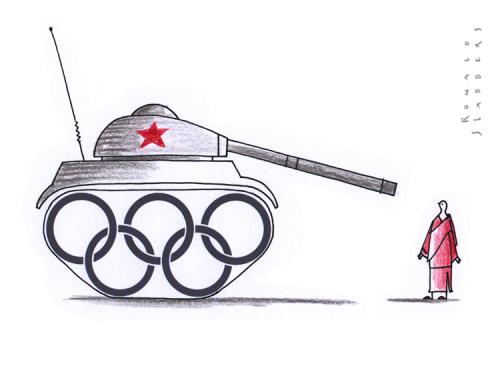 10522
.

di
Ronald Slabbers
il 25 March 2008
Vignetta selezionata
Celestial Peace

Ronald Slabbers, a masterly cartoonist from Amsterdam, interprets the Olympic rings as the chassis of a Chinese People's Army tank with a tank gun, in fact intended for remoter targets, which can barely be lowered far enough to aim at the defenceless Tibetan Monk. Slabbers' greatest achievement in the implementation of the issue is the antenna on the tank. Antipodal to the barrel of the gun, it protrudes far into the sky in order to receive the commands of governance. It appears delicate, almost wobbly and like the connection to the remote control of a toy car, controlled by invisible, naive potentates: pecking order in celestial peace!

(toonpool.com 05/08)

beep

Research

WikiLeaks...