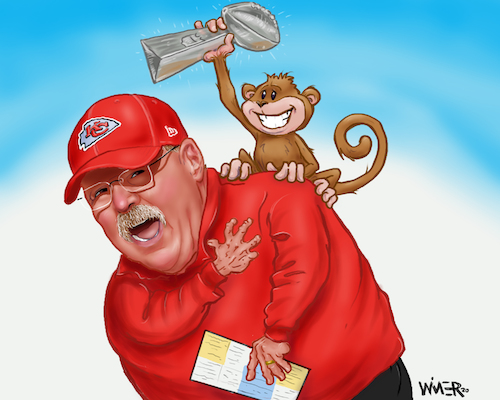 1315
Andy Reid Super Bowl Monkey

2
Applause

di
karlwimer
il 27 January 2020
My latest weekly cartoon for WoodyPaige.com, a leading website for sports in the United States (and occasionally abroad).

Super Bowl 54 is less than a week away, and Andy Reid is back for another swing at the big hardware — the Lombardi Trophy.

After 21 years as head coach, which included barely missing out on a ring with the Philadelphia Eagles 16 years ago, and deep runs in the playoffs with the Kansas City Chiefs in recent years, Reid looks primed to break through and shake that proverbial Super Bowl monkey off his back.

It's his best chance, with a Chiefs team that is firing on all cylinders. They've shown their ability to pull themselves out of deficits in a hurry, and score in bunches. All I can say is, 'good luck beating them in a shootout' — especially when their wunderkind quarterback Patrick Mahomes gets in a groove with the host of offensive weapons he has at his disposal.

Perhaps more impressive (and important) is a defense that more than slows down the opposition. A weakness that has kept many prior Reid teams from advancing to the big game, this season's seventh-ranked NFL defense can go toe-to-toe with any offense in the league.

What about the opposition? Kyle Shanahan has a small monkey of his own, having fumbled away a Super Bowl opportunity of his own a few years ago while coaching the offense for the Atlanta Falcons.

Needless to say, it will be interesting to see which coach shakes their respective monkey off their back first.
Sport » Soccer/Football Ball Sports Other Sports Championships
wimerandyreidsuperbowlnflamericanfootballkansascitychiefsmonkeycoach