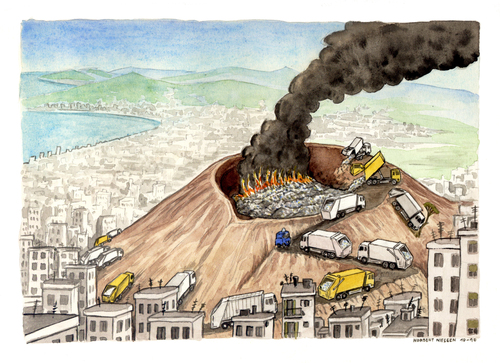 8791
Bella Napoli

di
Niessen
il 25 May 2011
Finally an answer to the garbage problem in Naples. No one had thought to exploit the Vesuvius as a natural incinerator. When burning the rubbish you get that typical plume as from tourist postcard.
And if the volcano explodes? The rain of garbage is better instead of ashes.
Traduzioni
(1)
aggiungi
Italian di Niessen
'Finalmente una risposta al problema della spazzatura a Napoli! Nessuno aveva ancora pensato a sfruttare il Vesuvio come inceneritore naturale. Quando la spazzatura brucia si ottiene un caratteristico pennacchio da cartolina turistica.
E se il vulcano esplode? Sempre meglio che piove spazzatura al posto della cenere.'

sustainability

Bella vita pr...

Sex Slave