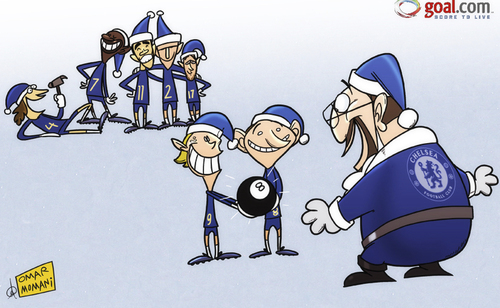 2573
Benitez little helpers

0
Applause

di
omomani
il 24 December 2012
After three consecutive draws at Stamford Bridge, Rafa Benitez got his first Premier League win at home since taking charge at Chelsea as his side gave Aston Villa a pre-Christmas stuffing on Sunday.

Fernando Torres, David Luiz, Branislav Ivanovic, Frank Lampard, Ramires, Oscar and Eden Hazard all got on the scoresheet in the rout to give Chelsea fans a sprinkling of festive joy following their Club World Cup final defeat earlier this month.

Benitez's side are now 11 points behind Premier League leaders Manchester United with a game in hand, and will be looking to close the gap over the busy Christmas schedule.
Sport » Soccer/Football Championships
branislavivanovicchelseadavidluizelvehazardlampardoscarpremierleaguerafaelbenitezramiressantaclaustorres

Happy 2012

C Ronaldo sco...

High Plains ...