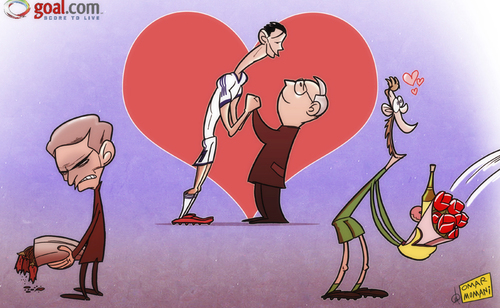 1604
Bernabeu love

2
Applause

di
omomani
il 17 February 2013
On a night which produced one of the most action-packed games of the Champions League this season, romance was in the air ahead of Valentine's Day as Manchester United escaped from the Bernabeu with a draw.

Sir Alex Ferguson would feel his side could have secured a first-leg victory after seeing a number of chances spurned but United are were also indebted to the heroic performance of David de Gea, whose saves, albeit sometimes unorthodox, prevented Real Madrid from adding to Cristiano Ronaldo's superb first-half header.

After the match, Ferguson and Ronaldo embraced, leaving Mourinho to insist United are not in the driving seat to progress to the Champions League quarter final, while De Gea rightly deserved the plaudits after coming under fire several times this term.
Sport » Soccer/Football Championships
championsleaguecristianoronaldodegeafergusonlovemanchesterunitedmourinhorealmadrid