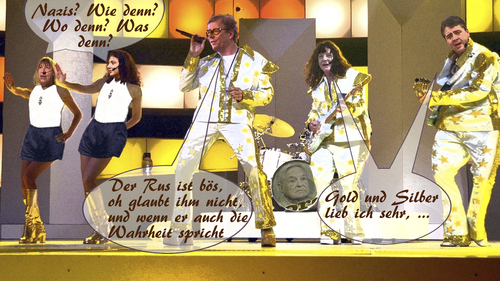 3478
Claus Kleber and the Mainstreams

di
Bilito
il 05 April 2016
Der finale Großangriff im einseitig erklärten" Information War", "Claus Kleber and the Mainstreams" rocken das Wahlvolk bis auch der letzte "Zweifler" am transatlantischen Ratschluss heulend zusammenbricht und dem Finanzkapital bedingungslose Treue schwört. "Selbst der härtest gesottene Russentroll", so Kleber, " bricht nach mehrmaligem Vorspielen unseres Songs zusammen und konvertiert zum verblödeten sabbernden Mainstreamzombie, garantiert!".
Im Background mit Fürsorge und Konformismus, straff aber nicht stramm, herb aber nicht derb die Maidan-Singers Atai und Harms im feschen BDM-Sportdress.
Für die Musik sorgen unsere beiden liebsten Goldhamster, die "Mutti" und der "Siggi".
Den Rhythmus gibt, wie immer, der gütige George Soros vor.
Laut Frontsänger Kleber bereitet die Band bereits ihr erstes Album vor. Der Titel ist noch äußerst geheim, aber so viel sei verraten, man werde mit dankbarer Unterstützung von FED & Wallstreet für den Finanzplatz USA und die neuen US-Kriegsanleihen werben.
Politica » National/Domestic International Elections Military & Security Taxes Third World Terrorism Finances Economy & Money Confederations Immigration Fraud & Corruption Historical Other Conflicts & War Politicians Parties Democracy
eurmarionettenusamaidanukrainenazismädeldeutscherbundwallstreetlügenwahlvolkrussophobierussenhassmanipulationmedienfinanzkapitalsorosgeorgeharmsrebeccaataigolinehgabrielsigmarmerkelangelakleberklausinformationskriegmainstream