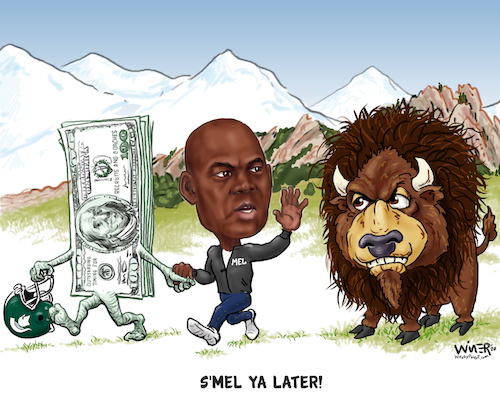 1281
Coach Mel Tucker Runs Out on CU

2
Applause

di
karlwimer
il 15 February 2020
My weekly cartoon for WoodyPaige.com - a leading sports commentary site for American and international sports.
Mel Tucker runs out on CU football for a pile of cash from Michigan State.

There's plenty of good stories in sports, but this isn't one of them.

Mel Tucker, a little over a year into his stint as University of Colorado head football coach, bailed this week for East Lansing, Michigan and Michigan State. He reportedly will receive compensation that will more than double his $2.4 million salary at CU — something to the tune of $5.5 million. (He also doubled his pool of money to pay his assistant coaches, and got a massive investment in strength and conditioning from the folks at MSU.)

Michigan State was in a desperate situation after Mark Dantonio suddenly stepped down, conspicuously after a host of recruiting violations were revealed. As an aside, this is an ugly story in its own right; Dantonio claims he simply wants to spend more time with his family. His retirement was announced a day after National Signing Day. I'm sure his recruits loved to hear that news — much like Midnight Mel's recruits at CU were blindsided by his surprise.

Michigan State was able to put together a boatload of money that most Pac-12 schools would never be able to offer, and in the process, made Mel Tucker one of the top-ten highest paid college football coaches in the country. All of this after a 5-7 season.

Certainly you can't blame the coach for dramatically improving his financial situation, as well as those of his assistant coaches. But the way he handled the situation in the days leading up to the decision left a lot to be desired, promising he wasn't interested in the move and dedicating himself to many more years at CU to recruits, boosters and many members of the media. Timing couldn't be worse, for recruits or available high quality coaches. It was also a gut punch for a struggling football program that seemed to be finally finding its footing.

There will be lots of talk in the days and weeks to come of the haves and have nots in college football, as the disparity between the big two conferences (Big Ten and SEC) and everyone else comes into sharper focus with stories like this.
Sport » Soccer/Football Ball Sports Other Sports
wimersportsamericanfootballcollegencaacoachescoloradobuffsmichiganstatebuffalo