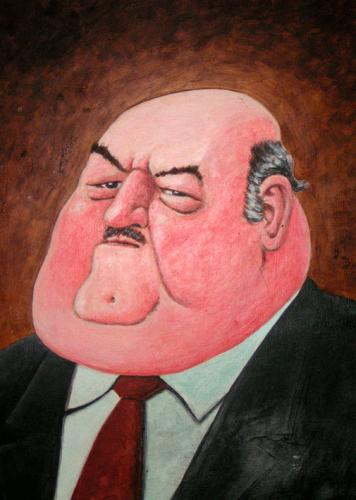 32929
Fat man

di
deleuran
il 08 January 2008
Painting of a fat man. Aqrylic.
Vignetta selezionata
Danish delicacies

Deleuran is a versatile painter. Be it illustrations, caricatures or cartoons, he always finds obvious images for complex topics. The best, however, are his photorealistic portraits: strong characters, which are set in a dramatic, sometimes ominous lighting. The face of Charles Bukowski is turned into a diversified crater landscape, in which every drink, every stroke of fate, but also every poem written in response, seems to be engraved. Henry Miller, the icon of Sexual liberation, is turned into a prototype of an artificially aged intellectual writer. And the king of fairy-tales, Hans-Christian Andersen, seems almost alive again with his wide awake eyes. In addition, Jesper Deleuran has also set a monument to the everyday people of his Danish home country. The thin man could be straight out of a film by Bille August, while the fat man seems more likely to origin from an "Olsen Gang" film. Only the thirsty man from the Tuborg advertising is missing. But surely Deleuran has yet to deliver that…

(toonpool.com 01/08)

The consultant

The man who a...

Playground