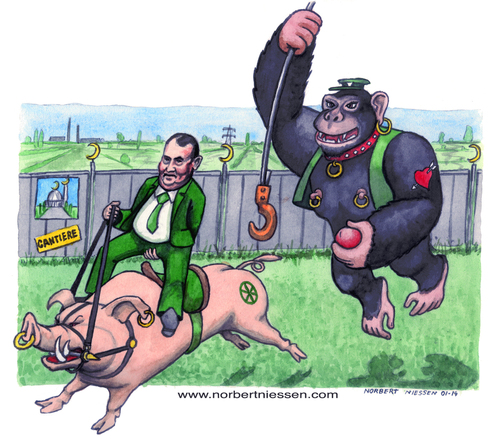 4397
Gorilla in love

1
Applause

di
Niessen
il 23 March 2014
The xenophobic and populist politician Calderoli* is being chased by a gay gorilla in love to learn the difference between a monkey and the minister Kyenge**.

*known for his racist and homophobic statements he leads his pig there, where mosques should be built and he is the author of the "porcellum", the Italian electoral law.

**Italian Minister of African origin.
Traduzioni
(2)
aggiungi
German di Niessen
'Der rechtspolpuläre Politiker Calderoli* von der Lega Nord, wird von einem verliebten homosexuellen Gorilla verfolgt damit er den Unterschied zwischen einem Affen und dem Minister Kyenge** lernt.
*bekannt für seine rassistischen und homophoben Äußerungen führt er sein Schwein dort aus wo Moscheen gebaut werden sollen und ist Autor des als Schweinerei bekannten italienischen Wahlgesetzes.
**italienische Ministerin afrikanischer Abstammung.'

Angels

Bella Napoli

Papi in croce