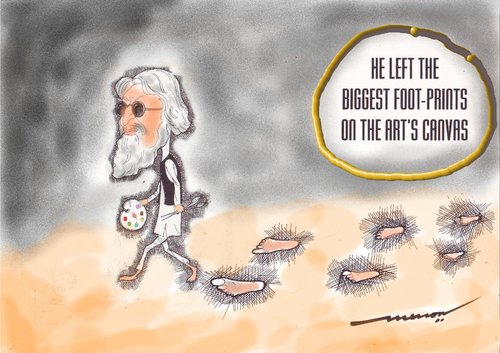 5016
M F Hussain Footprints

di
kar2nist
il 12 June 2011
Maqbool Fida Hussain , the barefooted maveric painter and one of India's celebrated artists passed away recently in London. He died , a man away from his motherland . But he had left a set of large and undeliable foot-prints across Art's Large Canvas..
Maqbool Fida Hussain, der barfüßige Maveric Maler und einer der gefeierten Künstlern Indiens entfernt kürzlich in London übergeben. Er starb, ein Mann von seiner Heimat. Aber er hatte eine Reihe von großen und undeliable Fußspuren in großen Leinwand übrig ..
Maqbool Fida Hussain, il pittore Maveric a piedi nudi e uno degli artisti celebri dell'India scomparso di recente a Londra. E 'morto, un uomo lontano dalla sua patria. Ma aveva lasciato un insieme di grandi e undeliable piede-stampa sulla grande tela Art's ..
Fida Maqbool Hussain, pictor picioarele goale maveric şi unul dintre artiştii sărbătorit India decedat recent la Londra. El a murit, un om departe de patria lui. Dar el a lăsat un set de mare şi undeliable picior-imprimă pe panza de mari dimensiuni Art's ..
Maqbool Fida Hussain, yalınayak Maveric ressam ve Londra'da uzak yakın geçti Hindistan'ın ünlü sanatçılarından biri. O uzakta onun vatan gelen bir adam öldü. Ama o büyük ve undeliable ayak-Art'ın Büyük Tuval üzerinde baskılar bir dizi bırakmıştı ..

Echo friendly

ATLAST

INTHENET BRO...