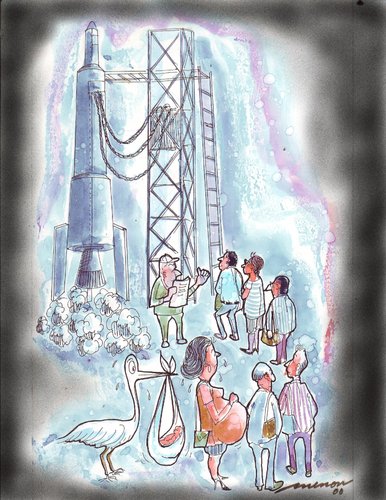 2705
Mars Express

di
kar2nist
il 31 May 2011
Commercial Space Travel is going to become a reality soon. When that happens both humans and members of the animal kingdome will have to face some unexpected problems..like this stork guy!
Търговска площ за пътуване ще се превърне в реалност скоро. Когато това се случи хората, така и на членовете на животните Kingdome ще се изправят пред някои неочаквани проблеми .. като този щъркел човек!
Kommerzielle Raumfahrt wird ein bald Wirklichkeit werden. Wenn die Menschen und die Mitglieder des Tieres Kingdome passiert werden einige unerwartete Probleme Gesicht .. davon Storch Kerl!
Commercial Space Travel sta per diventare realtà al più presto. Quando ciò accade sia gli esseri umani e membri della Kingdome animale dovrà affrontare alcuni problemi imprevisti .. come questo ragazzo cicogna!
Commercial Space Travel vai se tornar uma realidade em breve. Quando isso acontece tanto em seres humanos e membros do kingdome animal terá que enfrentar alguns problemas inesperados .. como esse cara cegonha!
Comerciale Space Travel va deveni o realitate în curând. Când acest lucru se întâmplă atât oamenii, cât şi membri ai regat animalul va trebui să se confrunte cu unele probleme neaşteptate .. ca acest tip barza!
Ticari Space Travel yakında gerçek olacak gidiyor. hem insan ve hayvan kingdome üyesi olduğunda bazı beklenmedik sorunlarla karşı karşıya .. Bu leylek adam gibi olacak!
Educazione e Tecnologia » Traffic & Space Flight