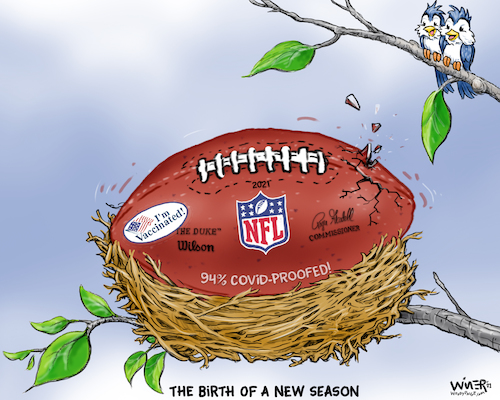 380
New NFL Covid Free Season

2
Applause

di
karlwimer
2 settimane fa
Latest cartoon for WoodyPaige.com, a leading platform for all things sports related in the US and abroad.

The Birth of a New NFL Season

Nothing announces the advent of autumn like the first weekend of football. As much as many of us love the college game, it kind of bleeds from summer into the new season. Some early games trickle in, the ranked teams mostly play cream-puffs to pad their early records, and the occasional upset or big time match-up get lost in the shuffle.

But the NFL announces it's here in a different way. And everyone seems to listen.

Maybe it's the built up anticipation due to the months of constant yammer provided by radio and television talking heads. But it feels good to plug in again.

Perhaps because it also feels normal again. Full stands and full rosters owe a lot to better control of the COVID pandemic. And the NFL has been a leader in all sports getting its people vaccinated: 94% of the players and 99% of the staff.

It may not fully stop the virus, but NFL teams can mostly get back to business with confidence and deliver fans the full brand of entertainment they've been craving.

We all can't wait to see what will emerge.
Sport » Soccer/Football Ball Sports Other Sports