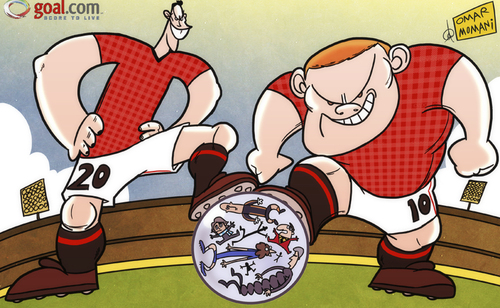 2626
Rooney and Van Persie

0
Applause

di
omomani
il 17 December 2012
Manchester United maintained their six-point lead at the top of the Premier League with a 3-1 victory over Sunderland on Saturday, and once again, Wayne Rooney and Robin van Persie were on hand to fire their team to victory.

The Dutchman grabbed his 12th league goal of the season to open the scoring at Old Trafford, and strike partner Rooney was not far behind with his seventh of the campaign.

Now having disposed of Arsenal, Chelsea, Liverpool and arch-rivals Manchester City already this year, the gigantic partnership of Rooney and Van Persie has the Premier League scurrying for cover...
Sport » Soccer/Football Championships
arsenalbrendanrodgerschelseadavidluizliverpoolmanchestercityunitedmancinipremierleaguereinarooneyvanpersiewenger