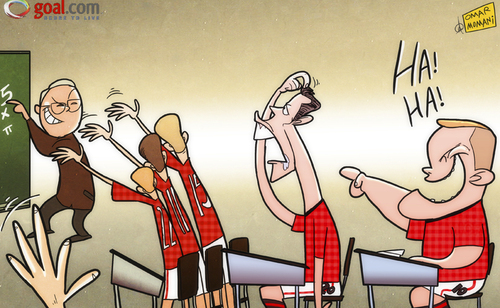 1712
Rooney mocks class dunce RVP

3
Applause

di
omomani
il 23 February 2013
Robin van Persie might be razor-sharp on the football pitch, but his Manchester United colleagues seem to have concluded pretty quickly that the Dutchman is not quite as intimidating off it.

When asked who is the easiest to wind up in the Old Trafford dressing room, resident joker Wayne Rooney had no hesitation in identifying his new strike partner.

"I'd have to say Robin. He's not the brightest!" Rooney said in a Google hangout with DHL.

"As much of a good footballer he is, he's definitely not the brightest off the pitch and it's just easy to get to him."

Don't worry Robin, as long as you keep banging in the goals, the banter will be kept within the confines of the United squad. Just don't go venturing into a classroom anytime soon...
fergusonmanchesterunitednemanjavidicrooneyryangiggsscholesvanpersie