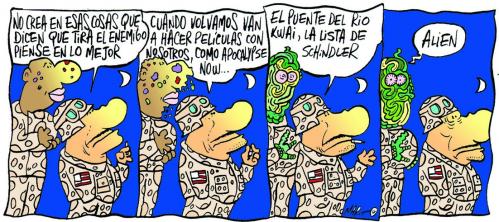 3438
SOS MARINES

1
Applause

di
Mario Almaraz
il 19 March 2008
Tira sobre las intervenciones
de ese ejercito en los paises, con todas sus consecuencias.
Traduzioni
(2)
aggiungi
English di mariposa
'SOS Marines

Comment:stripe about the interventions of this military in the countries and all its consequences.

-Don't believe in the things they say,that the enemy shoots and thinks best.
-When we return they will make movies with us,like 'Apocalypse Now'…
-'The Bridge on the River Kwai', 'Schindler's List'
-Alien'

HARRY POTTER

ILUSTRACION ...

Woody