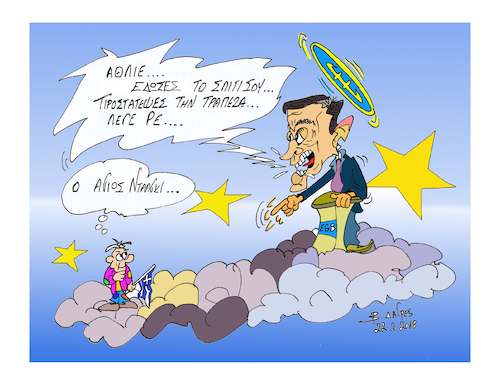 1754
Saint Draghi Hellas

1
Applause

di
vasilis dagres
il 27 February 2018
Α) You miserable person …..
You gave up your home ….
You saved the bank …. Confess ….

Β) Saint Draghi ...


Mario Draghi (ECB) requested from the Greek finance minister to proceed with the auctions in order for the banks to be saved once more, thus throwing old, young people and entire families out of their homes. The exact same thing happened in Spain. Really how much does a nation's dignity worths relative to the value of money ?

Ο Ντράγκι ,τραπεζίτης της ευρωπαϊκής κεντρικής τράπεζας , ζήτησε από τον ευρωπαίο υπουργό οικονομικών της Ελλάδας , να προχωρήσει στους πλειστηριασμούς , για να σωθούν οι τράπεζες του για άλλη μια φορά , διώχνοντας από τα σπίτια τους , τους γέρους , τις οικογένειες , τα παιδιά , τους νέους .
Ότι δηλαδή έγινε και στην Ισπανία .
ΑΛΗΘΕΙΑ πόσο αξίζει η αξιοπρέπεια του κάθε λαού , μπροστά στην αξία του χρήματος.
Politica » National/Domestic International Elections Taxes Terrorism Finances Economy & Money Family & Youth Other Politicians Parties Democracy