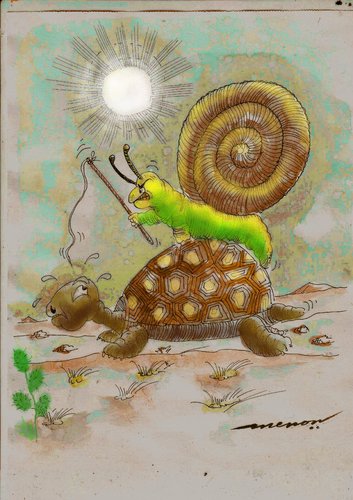 4774
Slave Driver

di
kar2nist
il 23 May 2011
Tortoise is slow, agreed..but the snail is still slower! So how can it insists on a better performance from the tortoise?Moral? When we are not perfect we have no right to expect perfection from others!

Tortoise ist langsam, vereinbart .. aber die Schnecke ist noch langsamer! Wie kann man also auf eine bessere Leistung von der Schildkröte beharrt? Moral? Wenn wir nicht perfekt sind haben wir kein Recht zur Perfektion von anderen erwarten!

Tartaruga è lento, ha accettato .. ma la lumaca è ancora più lenta! Così come può insiste su una migliore performance dalla tartaruga? Morale? Quando non siamo perfetti non abbiamo il diritto di aspettarsi la perfezione dagli altri!

Broască ţestoasă este lentă, de acord .. dar melcul este încă mai lent! Deci, cum poate ea insistă pe o mai bună performanţă de la broasca testoasa? Moral? Atunci când nu suntem perfecti nu avem dreptul sa se astepte perfectiune de la altii!

Tortuga es lenta, pero el caracol es aún más lento .. de acuerdo! Entonces, ¿cómo se insiste en un mejor desempeño de la tortuga? Moral? Cuando somos perfectos, no tenemos derecho a esperar la perfección notas de los demás!

Kaplumbağa, yavaş kabul .. ama salyangoz hala yavaş! Bu yüzden olabilir bu kaplumbağa daha iyi bir performans ısrar nasıl? Moral? biz diğerlerinden mükemmellik beklemek hakkı yoktur mükemmel değildir zaman!