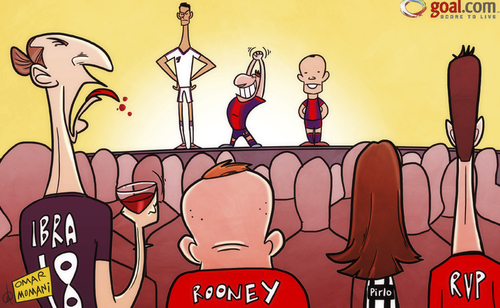 3029
Sour grapes for Zlatan over Mess

2
Applause

di
omomani
il 03 December 2012
Paris Saint-Germain's outspoken centre-forward Zlatan Ibrahimovic courted controversy once more last week by stating that Barcelona striker Lionel Messi shouldn't pick up the Ballon d'Or award this year.

The 31-year-old Sweden international believes that after having already won it three times in a row, that the Blaugrana genius would be far from a deserving winner and that it should be shared around more.

With Fifa whittling it down to just a three-man shortlist, and Messi competing alongside team-mate Andres Iniesta and Real Madrid star Cristiano Ronaldo, Ibrahimovic may have to wait a little while longer to get his wish, with the Argentine the current front-runner and overwhelming favourite.
barcelonacristianoronaldofifaballonoribrahimoviciniestajuventusmanchesterunitedmessiparissaintgermainpirlorealmadridrooneyvanpersiewine