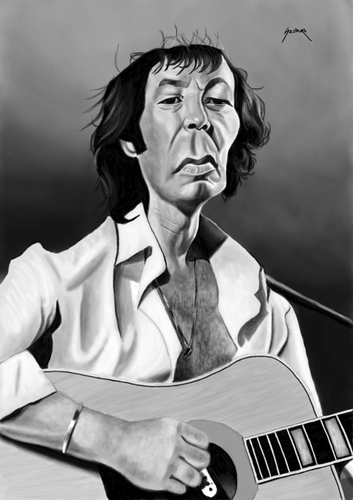 3438
Szabo Gabor

3
Applause

di
szomorab
il 31 March 2015
Gábor Szabó was born in Budapest, Hungary and began playing guitar at the age of 14, inspired by jazz music heard on Voice of America radio broadcasts.[1] He escaped Hungary in 1956, the year of the attempted revolt against Soviet-dominated Communist rule, and moved to the United States where he attended the Berklee School of Music in Boston.[1]

In 1958, he was invited to perform at the Newport Jazz Festival. Szabó then went on to perform with the quintet of Southern California drummer Chico Hamilton from 1961 to 1965, playing what has been described as chamber jazz, with "a moderate avant-gardism.".[2] In 1962 and '63, Hamilton's bands cut two albums consisting entirely of saxophonist Charles Lloyd compositions, with the title track of Man From Two Worlds featuring Szabó's guitar on top of a propulsive beat, parrying with Lloyd's tenor sax. The CD reissue of the album features a cut called "Lady Gabor" that had been composed by Szabó.

Beginning in 1966 he recorded a well-received span of albums under his own name on the Impulse! label. In the late 1960s he co-founded the short-lived Skye record label along with Cal Tjader and Gary McFarland.[1] Szabó recorded an album with Lena Horne on Skye in October and November 1969. Szabó had been part of Horne's backup band when she performed at The Nugget in Nevada in November 1966 and then when she performed (with Harry Belafonte) at Caesar's Palace in Las Vegas in September 1969. Likely Szabó had been first introduced to Lena Horne by her long time accompanyist and his former band leader Chico Hamilton.

Szabó's playing tended to incorporate elements of folk music from his native Hungary, from Gypsy and Roma influences, and also rock music's use of feedback. Szabó's album Wind, Sky And Diamonds on the Impulse! label features "The California Dreamers", a vocal-ensemble consisting of Ron Hicklin, Al Capps, Loren Farber, John Bahler, Tom Bahler, Ian Freebairn-Smith, Sally Stevens, Sue Allen and Jackie Ward.[1] During his solo career, Szabó performed with noted artists such as Ron Carter, Paul Desmond, and Bobby Womack.

Gábor Szabó's mid-1960s jazz/gypsy guitar work also strongly influenced Carlos Santana's playing. Indeed, Szabó's composition "Gypsy Queen" was used as the second part of Santana's 1970 treatment of Peter Green's composition "Black Magic Woman", almost down to identical guitar licks. Santana's 2012 instrumental album Shape Shifter includes a song called "Mr. Szabo", played in tribute in the style of Gábor Szabó.

Despite his influence on jazz music and the calibre of players with whom he performed, Gábor Szabó felt he was never fully accepted as a jazz artist in the United States. During a 1977 engagement at the Catamaran Hotel in San Diego, he complained to the audience about George Benson's success with "Breezin'" (composer, Bobby Womack). He indicated that he had recorded that song before Benson and that Benson had plagiarized the arrangement from him. Szabó's earlier version can be heard on the High Contrast album with Bobby Womack.[3]

In the late 1970s, Szabo became affiliated with the Church of Scientology and signed in November 1978 with Vanguard Artists International, a firm headed by several Scientologists. In 1980, Szabó filed a $21 million lawsuit against the Church of Scientology, accusing the organization of embezzling his money, kidnapping him and forcing him to undergo a Scientology "Life Repair Course." In a 36-page complaint, Szabó's attorney detailed an elaborate list of accusations which included Scientology's alleged takeover of the musician's career after he sought help in the church's drug treatment program. The church filed a countersuit in March 1980 charging Szabó with fraud, and in 1981 both sides dropped their suits. Szabó claimed he dropped his suit because "I found it too time-consuming and I couldn't concentrate on my career." He maintained that he stood by his original allegations.[4]

Gábor Szabó died in Budapest in February, 1982 from liver and kidney disease while on a visit to his homeland. He had arrived in the previous July to produce a record album and had planned to stay until the summer. His trip was also partly to find treatment for the drug habit he had been battling for years. He was survived by an ex-wife and a son named Blaise.[4]