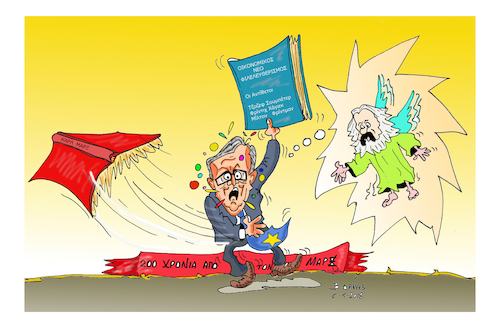 841
Two hundred years after the dea

1
Applause

di
vasilis dagres
il 07 May 2018
The opposite ...

The three economists of Neo-liberalism:
Joseph Schumpeter, Friedrich Hayek, Milton Friedman.
Applicants in their economic theory are: the Pinochet dictator (Chile), the dictator Suharto of Indonesia, today in many countries, such as Argentina, mainly in Greece, and partly in the European South.
Hahneek and Friedman, argued that they preferred a liberal dictatorship rather than a democratic government.

Οι απέναντι …

Οι τρεις οικονομολόγοι του Νεοφιλελευθερισμού :
Τζόζεφ Σουμπέτερ , Φρίντριχ Χάγιεκ ,Μίλτον φρίντμαν .
Εφαρμοστές τις οικονομικής τους θεωρίας είναι : ο δικτάτορας Πινοσέτ ( Χιλή ) , ο δικτάτορας Σουχάρτο της Ινδονησίας , σήμερα σε πολλές χώρες όπως στην Αργεντινή , κκυρίως στην Ελλάδα , και εν μέρει στον ευρωπαϊκό νότο.
Ο Χάγιεκ και Φρίντμαν , υποστήριζαν πως προτιμούσαν μια φιλελεύθερη δικτατορία , παρά μια δημοκρατική κυβέρνηση.
Politica » National/Domestic International Military & Security Finances Technology Family & Youth Immigration Other Politicians Parties Democracy

EYROZONE

CLIMATE

TSIPRAS AND O...