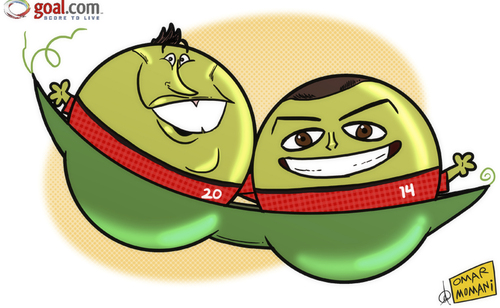 2774
Two peas in a pod

0
Applause

di
omomani
il 03 January 2013
Manchester United continued their march towards reclaiming the Premier League title with a 4-0 victory over Wigan on Tuesday which came largely thanks to Robin van Persie and Javier Hernandez.

The strikers bagged two goals apiece at the DW Stadium to ensure the Red Devils maintained their seven-point lead at the top of the table, with manager Sir Alex Ferguson later hailing his peashooting duo.

Indeed, Van Persie and Chicharito's form could be concerning for fellow forwards Danny Welbeck and Wayne Rooney, with the pair making goalscoring look easy peasy as of late...
Sport » Soccer/Football Championships
javierhernandezbalcazarchicharitomanchesterunitedpeapremierleaguevanpersie

MADebayor

The Champions...

The Premier L...