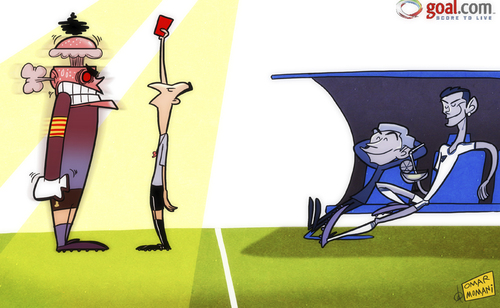 1326
Valdes sees red

3
Applause

di
omomani
il 05 March 2013
It's not been going well for Barcelona of late; they're sailing away with the Spanish title but have hit a rocky patch with a Champions League defeat to AC Milan, a Copa del Rey loss to Real Madrid and a La Liga defeat to los Blancos on Saturday afternoon, leading to pundits declaring the untimely death of The Greatest Team In History.

It all got a bit too much for goalkeeper Victor Valdes, who was sent off by referee Miguel Angel Perez Lasa after repeatedly shouting "You have no shame!" in the official's face for failing to award a late penalty to Barca.

The futures of Jose Mourinho and Cristiano Ronaldo may be a little uncertain but everything's coming up roses for the Portuguese duo at the moment - now it's just the small matter of beating Manchester United in the Champions League on Tuesday and reeling in Barca's 13-point lead to attend to...
Sport » Soccer/Football Championships
barcelonaclasicocristianoronaldolaligamourinhorealmadridvictorvaldes