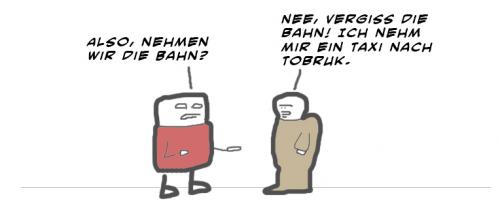 5124
taxi nach tobruk

di
prinzparadox
il 21 November 2007
Jaaa, ich weiss, was soll das? Das ist was für Kenner von 50er-Jahre-S/W-Filmen. Alle anderen finden das sicher überhaupt nicht lustig. Also gebt dem Schätzchen ruhig nur einen Stern, ich verstehe es...
Traduzioni
(1)
aggiungi
English di
'- so, we gonna take the train, right?
- no man, forget about the train! i´ll take a cab to tobruk.'

Klimaanlage

Schwaben in B...

Penthouse