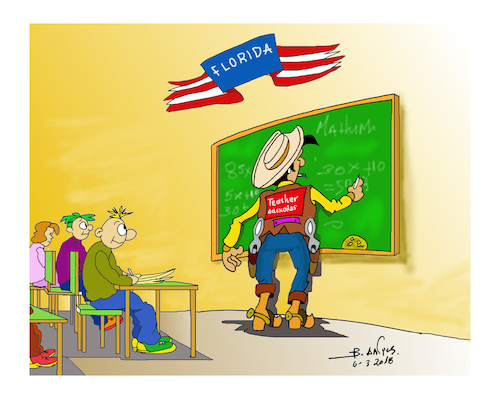 1364
teather kow boy

1
Applause

di
vasilis dagres
il 26 March 2018
Ο κυβερνήτης της Πολιτείας της Φλόριντα Ρικ Σκοτ επικύρωσε την Παρασκευή νόμο που περιλαμβάνει ένα πακέτο μέτρων ελέγχου στην οπλοκατοχή, αυξάνοντας το όριο ηλικίας για την αγορά ημιαυτομάτων τουφεκιών εφόδου στα 21 έτη, επιβάλλοντας περίοδο αναμονής τριών ημερών για την αγορά οποιουδήποτε πυροβόλου όπλου και επιτρέποντας σε ορισμένους εκπαιδευτικούς σε δημόσια σχολεία να οπλοφορούν.

Florida State Governor Rick Scott ratified Friday a law encompassing a package of arms control measures by raising the age limit for the 21-year ramp rifle semiautomation by imposing a three-day waiting period for the purchase of any firearm and allowing some teachers in public schools to be armed.
Politica » National/Domestic International Other Politicians Democracy

IMMIGRANTS - ...

GREECE
REFUGEES