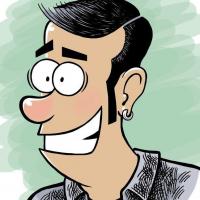 rodrigo
Lisboa, Portugal
membro da August 26, 2008
www.rodrigocartoon.com/
5 965 325
visualizzazioni
596
commenti
100
preferiti
Informazioni professionali
Nome
Rodrigo
Data di nascita
1975-05-01
Titolo di studio
Degree in Journalism by the University of Coimbra (Portugal); and diploma in Editorial and Press Illustration by Escuela Superior de Dibujo Profesional, Madrid (Spain).
Tecnica
mixt
Strumenti
Pigment liners, watercolour, watercolour pencils, Photoshop
Influenze
American and European editorial cartoonists
Vignetta preferita
Sergio Aragonés, Quino, Rob Crumb, Mike Luckovich, Doug Marlette, etc...
Informazioni personali


Portuguese cartoonist and ilustrator, author of the editorial cartoons published regularly in the weekly newspaper Expresso's website (www.expresso.pt). Member of FECO Portugal.