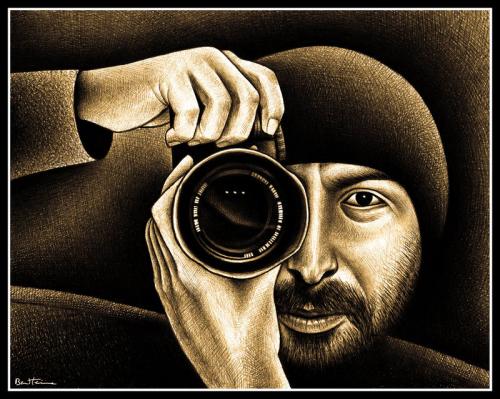 12842
Gilad Benari

di
BenHeine
il 16 February 2008
Narcissus, Photographer

By Erica Jong

Mirror-mad,
he photographed reflections:
sunstorms in puddles,
cities in canals,

double portraits framed
in sunglasses,
the fat phantoms who dance
on the flanks of cars.

Nothing caught his eye
unless it bent
or glistered
over something else.

He trapped clouds in bottles
the way kids
trap grasshoppers.
Then one misty day

he was stopped
by the windshield.
Behind him,
an avenue of trees,

before him,
the mirror of that scene.
He seemed to enter
what, in fact, he left.

(The poem appeared on http://www.ericajong.com)

--------------

This is a portrait of Gilad Benari. He is an Israeli photographer. See his DA page : http://gilad.deviantart.com/

With his astounding photos, he lets us see the simple elements of our world in a different and beautiful way. He says himself: "I love to vary my experience in photography. I believe that the real joy in photography is in the trivial, in small things".

The good thing with his photos is that they show another side of Israel, often criticized because of it's offensive policy towards Palestine.

He explains: "Israel suffers an image of being a desert land, or simply a war zone, when showing it all over the world news. Being a photographer and a writer, I have a chance to show otherwise."
giladbenariphotographerphotoconceptcameraclickfingersartcoloursshadesmanipulationdigitaldeviantartmasterprintpopularfamousorisraeltelavivjerusalemjewisraelitalentbenheinefotografinstantthedoorspopeyeericajongportrai